Gaspereau Vineyards
Gaspereau Valley's original boutique winery
Brand Development
Nestled at the base of the south-facing slopes of the Gaspereau Valley, Gapereau Vineyards is a boutique winery located minutes from Wolfville, Nova Scotia. They create award-winning, premium, estate-grown wines.
The first winery to establish in the valley, Gaspereau Vineyards is situated on the edge of a picturesque, 50 acre vineyard, formerly the site of a dairy farm & apple orchard.
Gaspereau Vineyards is a new world winery that exudes small-scale valley charm. Warm, personal with an emphasis on honest, hard-working craftmanship produces sophisticated, satisfying wines. The brand identity reflects the craft and detail present in all facets of the Gaspereau experince. From the wines to the vineyard, consumers and visitors are presented with a visual expression that reflects both the heritage of the vineyard and in the craft of the winemaking. The logotype integrates the heritage of the orchard and the old-world charm of the rendering style to create a brand that reflects Gaspereau Vineyards' values of craftmanship and pride of place and product.
Having planted vines over 20 years ago Gaspereau Vineyards is the original Gaspereau valley winery.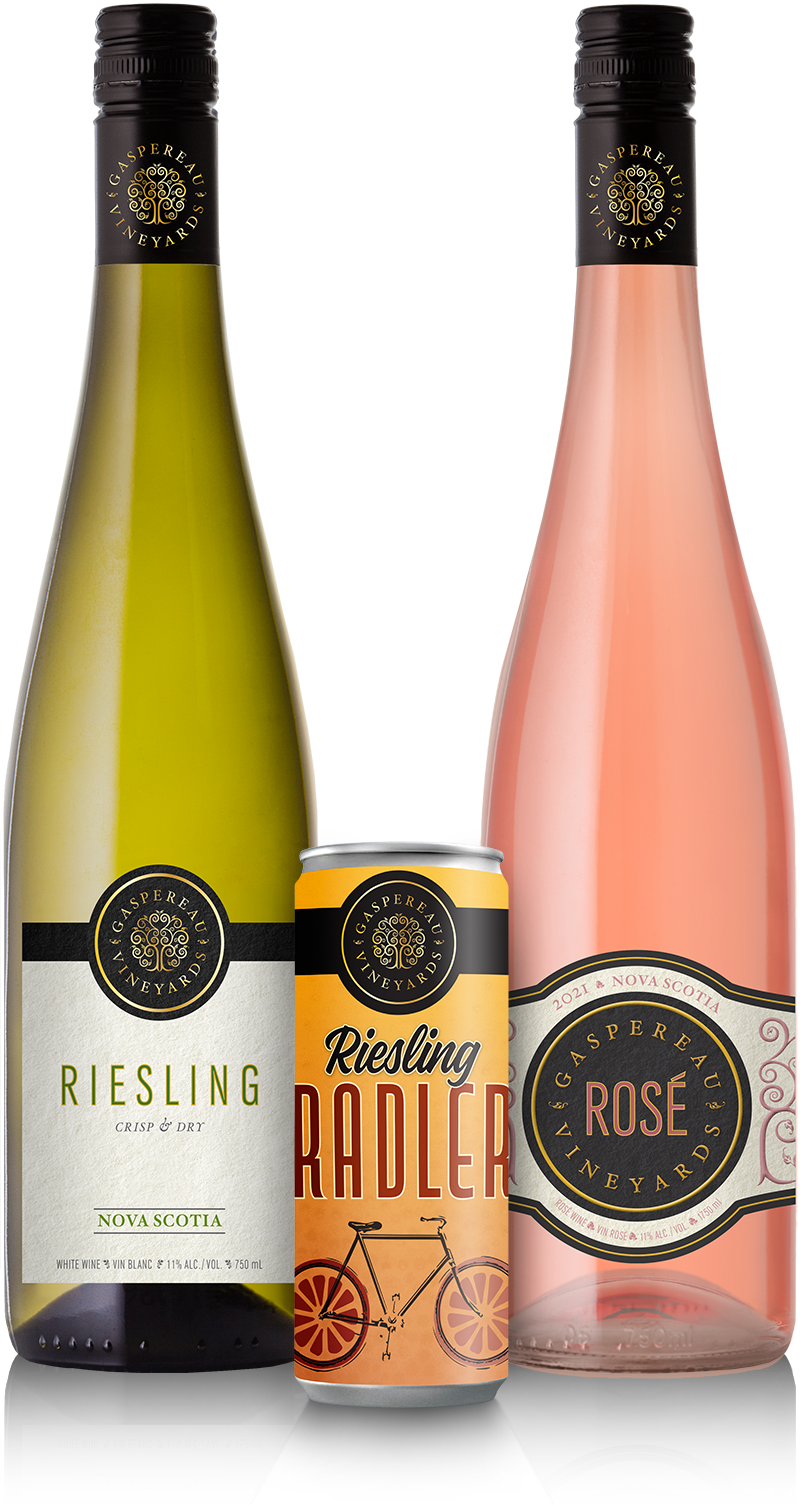 Implementation
The two main brand drivers are the labels and physical setting. Gaspereau Vineyards labels are warm and tactile. The paper a textured and very lightly creamy paper is offset with a beautifully engraved intricate logo printed with a rich, matte gold foil. This detail is set against an open uncluttered design with tasteful typography all of which creates an approachable feel which exudes old-world, charm and human scale attention to detail.
Gaspereau Vineyards also produce individual products that are personality-driven brand extensions that highlight the boutique quality of the winery while keeping the overall feel unique but cohesive.
A integral part of the Gaspereau brand is the physical setting and structures that make up the winery. As a major component of the Gaspereau brand's evolution is the integration and application of signage within and around the vineyard. In addition to the wines themselves the implementation of signs will mark the most prominenet features to help establish the new identity.
Every facet of the brand will be touched on by the new identity including retail signage and wayfinding, advertising as well as Gaspereau's online presence.